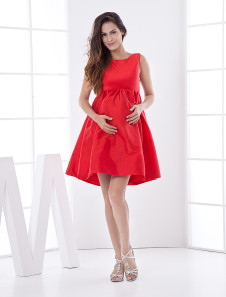 The chances are that while you are pregnant you are only going to need to wear maternity gown on one occasion. Maternity gowns are most often worn to special occasions like weddings. Traditionally, those who love pregnancy fashion have associated wearing a gown while pregnant with high costs. Fortunately, there is a variety of avenues you can explore for purchasing a gown on a tight budget.
Milanoo is a little-known store that operates on an entirely online basis. It is easy to find maternity gowns that costs less than £100 when shopping through them. Many of these gowns are so cost-effective because they have been purchased in China and have been designed based on popular designs from retailers like Isabella Oliver. As a result, buying through them can leave you looking fantastic with very little effort.
Much like Milanoo, Light in the Box offers maternity gowns to those who are looking for something on a budget price. Unlike Milanoo, they offer a wide variety of choice, as well as the broader range of sizes. Again, the majority of these gowns are based on designs by those who charge much higher prices. Light in the Box tends to charge more than Milanoo, but this is made up for with the high variety of gowns that are an offer.
Ebay
Last, but not least, nobody should ever neglect eBay when searching for gowns that can be worn while you are pregnant. As these gowns are seldom worn more than once, it is possible to find a great deal at an auction and rest assured that the item you are purchasing has not been over worn. In addition to this, there are also a number of retailers who have purchased in bulk from China and are selling the goods on via eBay. By keeping your eye on an auction closes at an awkward time of day or night, you are more likely to grab a great deal.