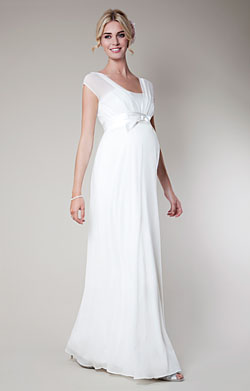 Trying to find maternity wedding dresses and evening wear used to be a chore, but thanks to
Tiffany Rose
that is no longer the case. As a maternity clothes brand that focuses solely on evening wear and wedding dresses, it is ideal for pregnant women who are looking to add a bit of elegance to their maternity wardrobe.
No matter what your taste in maternity wedding dresses is, Tiffany Rose will have something to compliment it. From shorter items that are well-suited to beach weddings, to dresses that emulate the one worn by Kate Middleton at the 2011 royal wedding, the designers at Tiffany Rose have create maternity wedding dresses that will meet your needs just perfectly.
If you are not the bride, but you are looking for elegant maternity wear that is ideal for wearing to a wedding, Tiffany Rose has a mixture of red carpet dresses, as well as evening and occasion wear. All you need to do is accessorise, and make it to your glamorous destination.